The 2021 Subaru Love Promise Customer and Community Commitment Award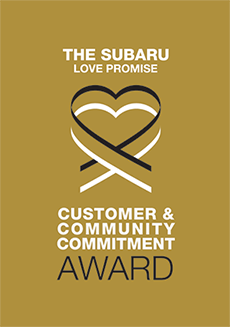 We've been nationally recognized for our dedication to our customers, our community, and the Subaru Love Promise.
We're honored to receive the 2021 Subaru Love Promise Customer and Community Commitment Award. This award nationally recognizes elite Subaru retailers who provide an exceptional customer experience at every interaction with Subaru. These retailers have also demonstrated an outstanding commitment to supporting passions and causes in their local communities in important areas such as the environment, community, health, education, and pets.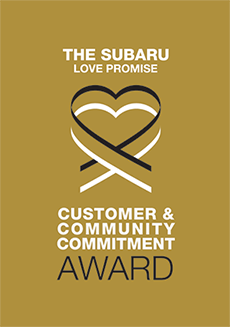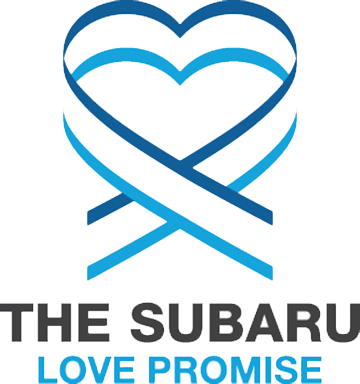 What is the Subaru Love Promise?
Subaru and our retailers believe in making the world a better place and the Subaru Love Promise is our vision of respecting all people. This is our commitment to show love and respect to our customers and to work to make a positive impact in the world.
How is Ganley Subaru East dedicated locally to the Love Promise?
Our Love Promise can be seen in various partnerships with local charities and non-profits. We're grateful for the opportunity, not only to be a part of our community, but to serve it as well.
Rescue Village, Lake Humane Society
Painesville Community Improvement Corporation, Lake Metroparks
Wickliffe Elementary School
Cleveland Police Patrolmen's Association, NEOCycle, Wickliffe Forever Foundation, Downtown Willoughby Rib Burn-Off
Lake Health/University Seidman Cancer Center, Susan G. Komen For The Cure
Love Promise Stories from Ganley Subaru East
Subaru and Ganley Subaru East believe in making a positive impact on the communities in which we live and work. We uphold that belief through our Love Promise Community Commitment. Every month, we select inspiring stories from customers and partners from around our area who strive to support our collective commitment and feature them here
Share the love - Adoption N
Thank you so very much for choosing adoption network Cleveland as your Subaru share the love recipient! Your recent gift of $55,827 Will make an incredible impact on our community this year and we are so grateful for your support. The adoption, kinship and foster care community needs champions like you! Internally grateful, adoption network board and staff
---
Adopting a classroom - Lori R
Dear Ganley Subaru of Wickliffe, I wanted to send a "special thank you" from Wickliffe Middle School for adopting a classroom. We are thrilled to be chosen. Our ELA and STEM teachers will be able to utilize the donation to purchase books, resources, and any type of items to create engaging and hands on learning experience. Lori Redman.
---
Great Dealership all the way around - Grant T
Mr. Mike Campola, I feel compelled to write a note of appreciation to you for the outstanding group of employees you have there at Ganley Subaru East. To begin Crissy,(my granddaughter)who spotted the 2017 Subaru that was "just right" for me and onto Bob, who has become a great friend. Handling the sales transaction all completely painless and smooth. Recently my car required some maintenance and this is where I met Giovanni Casella, whom I now consider a fantastic service writer, quick and very pleasant to deal with and now considered a good friend. The various technicians who worked on my car all together made the turn time amazingly short. Then finally the lovely pleasant and helpful lady, Demetrius, at the desk where I paid my bill" stole my heart". God bless her. All in all my experience at Ganley was very good and costless than I anticipated. I am very happy with my Subaru. Please let everybody know. Sincerely, Grant Ticknor
---
The Ganley Impact - Rob L
In October of 2019 we approached Ganley Subaru East with a vision. We wanted to raise not only funds, but also raise awareness for the Miracle League of Lake County. The Miracle League provides adaptive baseball fields for children with disabilities to be able to take part in baseball and recreational activities. Children from all of the country travel to Eastlake OH each summer to make use of these facilities. It's truly an amazing cause. After speaking with several other local businesses and being met with a lukewarm response we were able to get in contact with Sarah LaPuma at Ganley. Once Sarah and the team at Ganley learned of our vision and what we were trying to accomplish right here in our community they were ALL IN! Because of Sarah and the ENTIRE Ganley Subaru East family we were able to put on a 5K that raised awareness, raised money and made the entire community proud! On what we plan to be an annual event, the Holiday Hustle 5K was held at Lake County Captains stadium where runners were treated to a full morning and afternoon of festivities to kick off the holiday season. After being entertained by the services of VYBE Entertainment at the race, each runner received finisher medals and t-shirts. They were then treated to an amazing BBQ buffet, and got photos and autographs with Cleveland Browns legends Eric Metcalf and Hanford Dixon! WHAT A DAY! On behalf of the Miracle League, BakerBands, the cities of Eastlake and Wickliffe and all of Lake County, we would sincerely like to thank Sarah and the Ganley family for the generosity, support and leadership in raising money and awareness for an unbelievable cause. Thank you!
---
Breathtaking Generosity - James H
Dear Ganley Family, Where do we even begin, for many of which that do not know, Ganley went above and beyond in support of a local mission many of us hold close and dear. To provide a little color on the background of this story. We operate and run a non profit organization called the Subzero Mission which can be found online at Subzeromission.org. The purpose of our mission and our slogan is to ensure no inividual should freeze to death in America. During the winter months our teams collectively seek out homeless tent camps, shelters, and those in need to provide them with warming items. Therefore on our off months of non-deliveries, we work countless hours to raise the funding needed to support our winter operations of giving back to those who are less fortunate. Ganley & Subzero met at Painesville Party in the Park in 2019. From that moment forward Ganley believed in and supported fully with our mission, collecting and donating items in charitable donation drives. Not only did Ganley support in these efforts but that also wanted to take things one step further and that was by providing a cash donation. When the amount was presented, immediate tears of joy came over our entire team. While living through COVID19 and having so many uncertainties many of us started to become concerned with the funding season ahead. Ganley provided us with a gesture that no one within our organization will ever forget, the Ganley team goes above and beyond to give back to its local communities and organizations. I am proud to say we look to Ganley as a long lasting partner and a fantastic example of how organizations truly give back to there communities. Respect-The Subzero Mission
---
Lake Metroparks & Ganley Subaru East Partnership - Lake Metroparks L
Ganley Subaru East has once again partnered with Lake Metroparks as a presenting sponsor for 11 events at four parks. With your generous support, we are able to provide visitors with many high-level outdoor experiences. Your staff participation at our events throughout the year helps us to enrich the community by providing unique and affordable events. Thank you so much for your support!" -Paul Palagyi, Lake Metroparks Executive Director
---
LLS Loves Ganley Subaru East - KERRI P
We are excited to be partnering with you again for Subaru Loves to Care in June. Thank you to the staff and Subaru buyers! On behalf of our patients and their families, you make a difference!
---
27th Annual Willoughby ArtsFest - Karen T
Dear Mike, Thank you for your generous sponsorship for the 27th Annual Downton Willoughby ArtsFest. Your sponsorship provided you with the opportunity to touch thousands of guests on the Artsfest data and gain exposure. Examples include the Artsfest website, Facebook mentions, Artsfest/sponsor ads on Lake Tran buses, Cleveland Magazine, Currents Magazine, Scene Magazine, The News Herald, and more. The Artsfest was a very well attended, successful event! Your sponsorship enables us to hold the ArtsFest which not only brings visitors to downtown Willoughby and western Lake County but brings greater visibility to you, our valuable sponsor. Revenue generated from the Artsfest helps sustain the Willoughby Western Lake County Chamber of Commerce as we continue to support business in Western Lake County through our various events that build businesses in our communities. May your Artsfest sponsorship bring you increased and fruitful visibility and business opportunities in the days to come! Again, thank you for your continued support. Sincerely, Karen W. Tercek, President/CEO Willoughby Western Lake County Chamber of Commerce
---
Thompson Fire Dept - 4th of July Chinese Auction - Dorothy B
July 9, 2018 To Whom it May Concern: On behalf of the Thompson Fire Department I would like to thank you for your donation to our annual Fourth of July Celebration Chinese Auction. Through the generosity of organizations such as yours our department was able to raise over $3,200.00 on the Chinese Auction this year. The money raised from this auction will be used to supplement the department's tax budget and to purchase items that are not able to be purchased from the budget. Again, thank you for your support, Dorothy Battles Assistant Chief Thompson Fire Department
---
Infinite Subaru Love - Kerri P
What is the capacity of a new Subaru Ascent? 153.5 cubic feet, to be specific. Or, picture 4 boxes of blankets, 25 lunch box sized arts & craft kits, and gift bags. Oh, don't forget the driver and passenger too! Thank you to Ganley East Subaru for their continued commitment to Lake Hospital. Their delivery brought a reminder to patients and their families that they are not alone as they go through treatment. Even in the midst of a hot Ohio summer, the chill of a treatment room can be a reminder of how "not normal" their lives can feel. The warmth of a blanket donated by Subaru will be a constant reminder of the surrounding warmth offered by the community. What is Subaru's capacity to love? Infinite! Thank you Ganley East Subaru for sharing the love!
---